Annnual KAMPANY Golf Outing & Fundraising 2022
페이지 정보
작성자

홍수현

작성일

22-07-02 10:05 조회276회 댓글0건
본문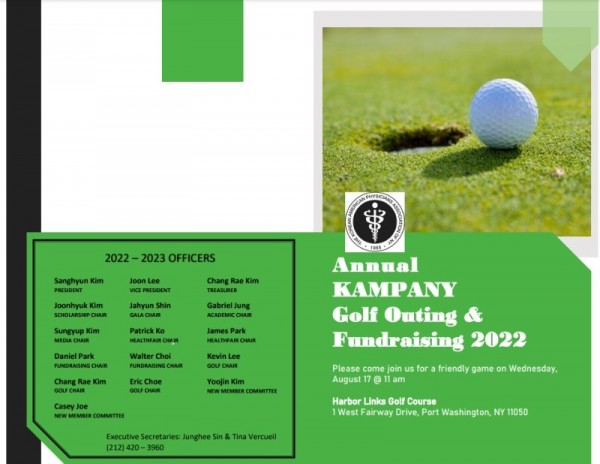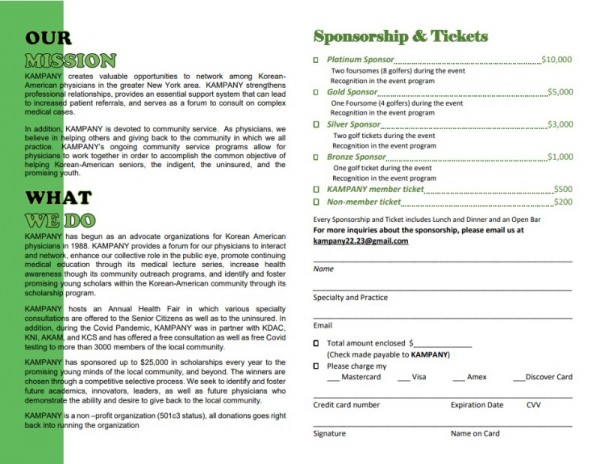 Greetings
As members, family and friends of KAMPANY, we've achieved so much together over the years. It is too numerous to list what our KAMPANY forefathers have done since 1988.
In recent years alone, we supported our community with health fairs and assistance during the pandemic with Hot-lines and Covid testing. We foster the growth of our community via scholarship  awards and "How-To-Get-into-Med School" seminars. We strengthen our bonds through educational events, and annual galas. But most importantly, we support each other. 
KAMPANY was formed with the purpose of advocating Korean physicians and to a greater degree our shared community. 
What better way to network and support each other than Participating/Donating in our annual golf outing. KAMPANY's fundraising golf outing is the oldest tradition for us and it is the single most important event. 
We are your trusted physicians, colleagues and importantly, your golf buddies. Please make time for us, enjoy a round of golf with us, and be satisfied in knowing that your donation will go far in helping our beloved korean community of NYC. 
Sanghyun Alexander Kim
KAMPANY  president '22 - '23
p.s. We would like to show our appreciation to our donors by adding your information to our program. When making donations, please do so prior to  August 1st, 2022 and include your organization information as well as your payment detail.